Alaska Really Is A Must Visit for Everyone!

We saw Alaska as part of an RV caravan and witnessed Glaciers, Valdez Harbor, the Pipeline and incredible nature!

We had signed up for an "RV Tour" of going up there, through Fantasy RV Tours , while at the Tampa Florida RV Show.
I know, never step into a booth at a show - what was I thinking!!
We must admit, we had second thoughts about taking the trip and spending all that Fuel money as we watched the price of fuel go up during the Spring of 2011.
However, we realized we probably wouldn't take the tour otherwise, so off we went with the 20 other RV couples on an organized RV Caravan into Canada and & our 49th State!
Fantasy Tours has a great system in place. We had great Log Books, excellent Wagon Master & Tail Gunner, itinerary info and a place to stay every night! Plus, some awesome day trips organized throughout the trip.
The real "trip" was just going!! If you ever get a chance - GO!!!! It is incredibly beautiful. Course, we went during the peak season - June and July!
An excellent source of traveling info is the Alaska Milepost Book.
Even though we were on an organized tour, with a Wagon Master in front and a Tail Gunner in the rear, we were still given that book for info. It breaks it down by regions and mileposts - with all kinds of tourist and necessary info, always at hand!
The Alaska Milepost Book is without a doubt a necessity - even with an organized tour group, as we were!
Alaska Wildlife and Nature

We spent 60 days traveling through Canada and Alaska. We saw just about every wild animal possible.
Hugh Moose and Elk, Buffalo that were as big as our RV's, 100's of Bald Eagles, Bears, whales, puffins, sea otters.... well, you get the idea!
Aside from the incredible wildlife, we saw the Rocky Mountains peaking through clouds. Speaking of mountains, a glacier is just a wonderful site to see and actually walk on!
Bears would be on the sides of the roads trying to eat every berry possible, for winter hibernation. Plus, watching them salmon fishing was just an incredible sight.
Remember, we were in their open environment - no fences anywhere!
Valdez Harbor was magnificent!! We had an all day boat tour of an active glacier - came within 1/4 mile of the "foot" to hear and see icebergs break off!
Just navigating through the ice field was exciting! Our boat Captain - Stan Stevens - of Stan Stephens Wildlife Cruises has been doing these tours for years, so he knew exactly how to navigate the harbor.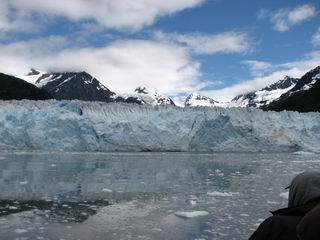 Valdez itself is an awesome area. It's surrounded on three sides by mountains, with their peaks poking through the clouds.
The wildlife in the harbor was just perfect - sea lions, otters, puffins, whales, eagles, bears, salmon - you name it, we saw it!
Plus, spectacular waterfalls!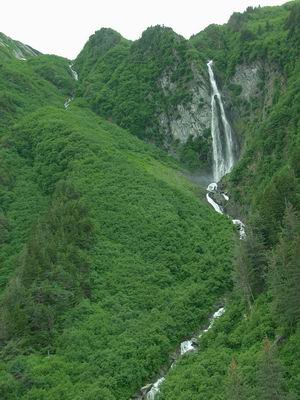 Homer is another wonderful area. It is mostly a "spit" that goes out into the water.
Just picture this... you're parked right on the edge of the beach, nothing in front of you except water and eagles are soaring all around! We actually had an eagle fly right towards our huge front RV windows - then skim our rooftop - I was speechless!!! Seriously, I was!!!
Actually saw a baby eagle being fed in it's nest! If that isn't enough, you can go out fishing for the day. Plus, the sunsets are just so beautiful!
The RV Parks are not as equipped as the parks in the "lower 48", but who cares - you're there for the sights - not the conveniences!!
Alaska and the trip to and from it are just something that really must be on your Bucket List!