RV Water Filters
Exciting News! We just opened our Amazon Affiliate Shopping Cart!
Amazon is a well recognized name in the RV world and we hope you'll click thru our cart to shop on Amazon. It will be just like shopping at Amazon directly - exact same prices and info. Just look thru our cart, select whatever you like and it will go DIRECTLY to Amazon. Purchasing, Shipping, Returns, etc. are ALL done thru Amazon!! Great Program

We just get a small "affiliate fee" for displaying on our website. This commission will help us financially live on the road independently!!

RV Water Filters should be a concern of any RV'er! Many of us just add whatever water we find and drive away!
It seems like most people use at least a "sediment" filter before they fill their RV tanks. These are important but all they really do is keep sediment out of your tanks!
The "quality" of your water is so much more important!
Unless you've done a ton of research, most of us purchase some sort of aftermarket water filtration system for our drinking water and "assume" that's enough!
That's pretty much what we did!
We had been using a cartridge type under our kitchen sink for cold drinking water. It seemed to work well, but clogged up pretty easily and was expensive.
After lots of "hindsight" researching, we stumbled across a system we had never seen before - Santevia Water Filter System - a great water purifier. We were actually in a health food store and they were displaying it and sampling the water. Wow - what a difference!
Their entire process of filtration was the most common sense type we had seen. As an example, the first filter the water goes through is a ceramic filter that is flat.
Usually, most designs use a cone shaped ceramic filter. That just means the bottom section of that filter does all the work! The Santevia brand uses a flat ceramic filter. Plus, they supply a little abrasive cloth to clean/scrub your ceramic filter once a week.
The water then goes through a series of 5 different filters in the lower section to complete the filtering process. It also contains small mineral stones in the bottom of the lower water tank.
Now, your RV Water Filters are actually getting your drinking water as pure as possible, with the best alkaline content as well - Pretty neat!!
Maintenance is really quite simple. Scrub the flat ceramic filter in the upper tank once a week and change the lower 5 stage filter every 6 months - not bad!!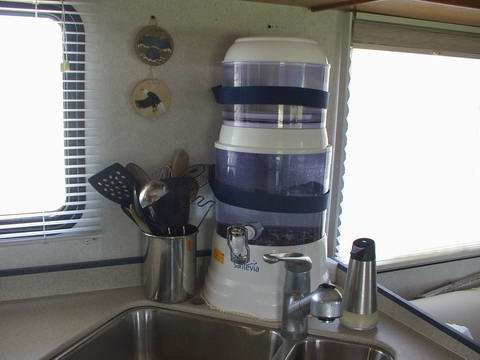 We have ours sitting on our counter, behind our sink and faucet. We used some foam from packaging to keep it from moving into the corner. Then, we added 2 straps to be sure it doesn't fall over on a hard stop.
Now, whenever we get water, we fill several large jugs directly from the sink (while filling our main tank). Then we just fill our Santevia system from the jugs and then the sink faucet as needed.
We also try to get in the habit of filling the top tank before going to bed so we have plenty of fresh great tasting and safe water for coffee and drinking in the am!
It's so nice to have cold water coming out of the kitchen sink at full pump pressure! We just fill our Santevia whenever we need to - very simple, gravity feed with no moving parts or electricity (reverse osmosis) needed - a perfect RV Water Filters solution for today's fulltimer!
---
Comment section may not display, depending on the Browser you use. Chrome will display for sure! Mozzilla Firefox will not. Please don't using Internet Explorer (not secure!!)