RV Water Heaters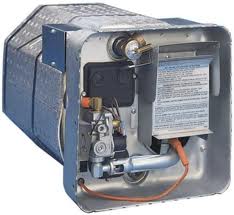 RV Water Heaters have sure advanced over the years! Today's RV Water Heaters can be powered several ways and some will even deliver instant hot water.
The "typical" hot water heater of today will be sized from 4 gallons to a 16 gallon capacity. As always, $$ usually determines the size.
The more water you want, the bigger the RV needs to be - $$ is always relevant!
This same typical water heater of today will be able to heat your water either by just propane (still needs 12 volt DC) or when hooked to shore power or you want to listen to your generator, you can have it heated by 120 Volt AC electricity.
These will be similar to the type you would find in your stick and brick house - just smaller and powered by propane OR 120 Volt AC electric.
Just as in those, you have to wait till it heats the water first - and hope it doesn't run out while your in the shower!

A more expensive system, usually only in the high-end Class A Diesel Motorhomes, is either an "Oasis" or an "Aqua-Hot" hot water total system.
This is an all in one system - hot water for showers & dishes while also providing heat for the engine and the inside of the RV. It works on the same principle as a boiler in a house does.
Since most Class A Motorhomes are diesel powered, the "Oasis" or "Aqua-Hot" system is usually diesel fired/powered. You'll recognize them with the small exhaust pipe coming out on the side mid-section!
The "boiler" of that system is the heart of the operation.
It will have individual coils full of hot water that can go to any faucet on demand, send hot water to the heat registers throughout various zones within the passenger compartment of the RV or send hot water to the engine to keep it warm in cold weather - pretty neat, huh!?
The down side- it's a pretty complex system. But, it's quiet and toasty while providing instant hot water AND moist heat - not dry hot forced air like the ones above!
Propane/Electric RV Water Heaters

Atwood Water Heaters

Atwood is a major supplier to the RV Industry. Aside from water heaters, they also provide other appliances. An Atwood Water Heater is the propane OR electric type discussed above.
Please visit their website link in the company logo directly below here.
---
Suburban Water Heaters

Suburban RV Water Heaters are similar in operation to Atwood. They both will work with either propane OR electric. Each brand will have it's own unique engineering concepts and perhaps one will be easier to work than the other?
Please visit their website link in the company logo directly below here.

---
Basic Operation & Maintenance

They usually have a switch in the passenger area that someone selects if they want propane or electrically heated hot water - course, you have to be plugged in or have the generator running for the electric mode.
If everything is right - you won't have to go outside at all to select type and get your hot water!
Caution however - bugs love the smell of propane and will build a nest inside the propane system when not in use.
There are several videos available to see how to perform basic maintenance to prevent bugs and keep the system clean and ready for you.
There is also a device called an "anode" that should be changed yearly. It is designed to sacrifice itself to protect the actual electric hot water heating elements within the heater.
Again, this is easy to do, but consult a video if uncertain.
---
Hot Water Heating Systems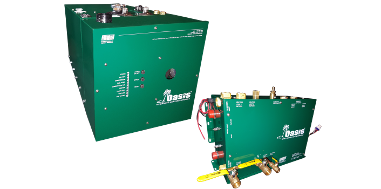 Oasis Hot Water Systems are also extremely good. Most people like either and don't stop a purchase of a RV if it has an Oasis versus an Aqua-Hot System. The maintenance of these systems is a completely different subject. The Oasis System is the clear winner when it comes to ease of maintenance and just operating the unit itself. Here's a quick video of how easy it is to maintain the Oasis unit. Plus most times, it is very accessible to work on too!
---
Aqua-Hot is probably the most common name for RV Water Heaters. It provides instant hot water where and when you want it, doesn't waste fresh water till it gets hot in that shower. All of this while providing hot water heat to you and your engine! However, it is VERY complex and difficult to find a good tech that really knows what he is doing.
Pros: Instant hot water - faucets & showers and quiet hot water heat without having to dry up with forced hot air heat. Keeps your diesel engine warm in cold weather.
Cons: Requires either the engine running or the boiler itself, powered by diesel (propane available for a gas engine) fuel. They claim it doesn't burn much itself, but it's still precious diesel fuel burning.