RVing Utah

Fodor's Travel, a name in travel recommendations for almost 80 years, for the first time ever has selected a top destination for the year: Utah.
Fodor's annual Go List highlights 25 can't-miss spots around the world that should be on every traveler's radar for the next year, and places Utah on top.
If you happen to see a Utah License plate, the most popular one is their one about Snow! It will also have a picture on it of a skier! The Winter Olympics were held here and there are plenty of ski places here because of the great weather and higher altitudes - all very conducive to snow skiing!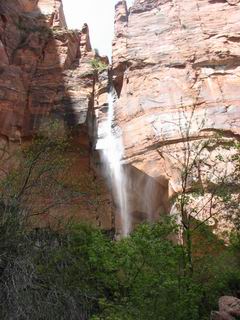 Zion National Park is a great way to start RVing Utah! Many travelers come into Utah from the southwest corner and realize Zion is right there.
Zion is not only an incredible natural setting, it is a pretty neat showcase of a man-made tunnel, built through a solid rock mountain back in the late 1920's. Coming into Zion from the west, you'll pass through the town of Springdale, just before the entrance to the park.
While in Springdale, the Pizza & Noodle Co offers great Italian food and pizza, or Oscars Cafe - if you are hungry!
Take a shuttle into Zion park and just enjoy all the wonderful places to stop and wander, hike or climb. Zion is also world famous for "rock climbers".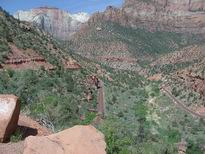 Heading east from Zion, climb the fascinating switchbacks up the mountain in your car to the tunnel entrance. Be sure to stop while climbing the mountain for some great photo ops of the roadways!
Once you get through the tunnel, there are massive structures to view there as well.
When you reach the end of the roadway - south will take you to Lake Powell and the Grand Canyon; north will go to Bryce Canyon, Kodachrome, Grand Staircase and Capitol Reef. Unless you have specific plans, I would suggest north first!
---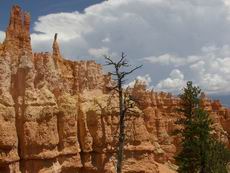 Bryce Canyon National Park is magnificent. If it isn't on your RVing Utah "Bucket List", it should be.
See our RV Destinations page to learn all about Bryce Canyon - it's rated #1 in our book!
---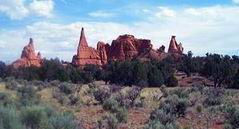 Kodachrome State Park is just east of Bryce and on the way to the Grand Staircase Monument. Once you've seen the neat structures in Bryce Canyon, you'll appreciate them in Kodachrome as well.
Kodachrome's spires are more "individual" and therefore almost more striking? It's just amazing to see such incredible spires and peaks rising out of the ground - some balanced precariously for thousands of years!?!
Since this is a Utah State Park, the Federal Pass doesn't work there. Still worth visiting, no matter the price. Plus, the campground inside the park has great trails to various sites within Kodachrome itself. If the campground itself is full, you can probably get a cabin at Bryce Canyon Villas, in Cannonville - on the way to Kodachrome. RVing Utah highly endorses Kodachrome as a must visit location.
---

Grand Staircase Monument is a beautiful drive along Utah Rt 12 - An All American Highway!. Traveling east from Kodachrome becomes spectacular from milepost 69-70 on Rt 12. You'll come across a vista overlooking about 1,100,000 Acres of land!!! The roadway alone through here is incredible!

---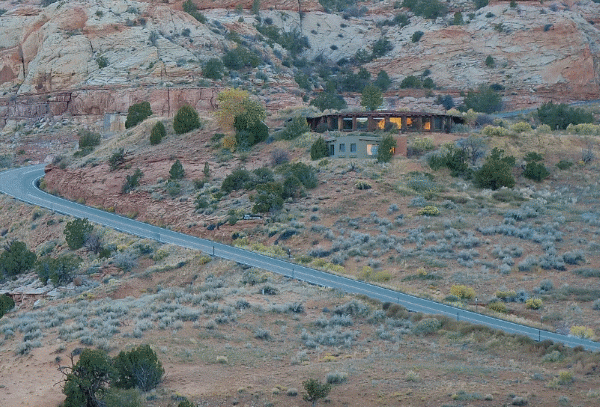 Stop at the Kiva KoffeeHouse for a coffee, while enjoying the view over the Escalante River Valley. Across the valley is a great hike to a site with petroglyphs that are amazing.
---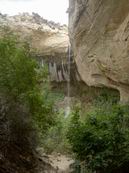 Continuing on, the Lower Calf Creek Falls are the next stop! Fabulous hike and so worth it.
If that wasn't enough, continue on Rt 12 east to the exit for the Upper Calf Creek Falls. A great hike, but easy to get confused coming back, so make sure you look back once or twice toward your car on the way down, so you know what direction to take back up.
---
After all that hiking and climbing, a delicious diner is called for at Hell's Backbone Grill, in Boulder, Utah. They have just incredible healthy menus with everything fresh and local meats and wines - couldn't ask for better!
They are featured in our RV Foodie page as well.
---
Capital Reef is your next stop. Wow, what a beautiful campground within the park itself. The sites are all within orchard trees or just good huge shade trees - beautiful! Within the park itself are great hiking trails with spectacular views of mountains, streams, natural bridges, etc. You name it, Capital Reef sure has it!
Now you understand why RVing Utah is so wonderful - and this is only a small area!
---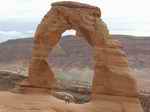 If you still need more encouragement about Utah, take a look at our Arches Page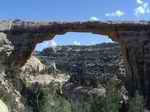 Perhaps a look at our Natural Bridges Page? Also, in Utah!
---

View Utah in a larger map