RV Washer Dryer

Exciting News! We just opened our Amazon Affiliate Shopping Cart!
Amazon is a well recognized name in the RV world and we hope you'll click thru our cart to shop on Amazon. It will be just like shopping at Amazon directly - exact same prices and info. Just look thru our cart, select whatever you like and it will go DIRECTLY to Amazon. Purchasing, Shipping, Returns, etc. are ALL done thru Amazon!! Great Program

We just get a small "affiliate fee" for displaying on our website. This commission will help us financially live on the road independently!!

RV Washer Dryer appliances by Equator sure make living on the road easier! Nowadays, you can do your own laundry in your RV.

Today's modern RV has great RV Washer Dryer options.
You can purchase most larger RV's with either the plumbing/electric only, a stackable washer dryer or a WD combo unit - all in one.
The dryer part can be either vented to the outside or a non-vented type. Most people seem to agree that the vented to the outside is a better performing dryer and the most common installed in an RV.
All of the dryers are electric only (not propane) and require either "shore power" or the RV generator to be running to power them. The washer will not start without shore power or the generator, as well.
Depending on your RV lifestyle and how much you may like public Laundromats will usually determine if you insist on having at least the plumbing/electric installed in your RV.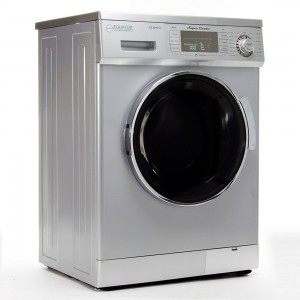 Depending on your RV lifestyle and how much you may like public Laundromats will usually determine if you insist on having at least the plumbing/electric installed in your RV.
Over the years, several manufacturers have tried to enter (and stay) in the RV Washer Dryer market.

They offer ventless or vented dryers in either stackable or a combination - all in one unique box unit.

The most common appliance in this category is the WD combo. It provides great washing and dryer - at minimal closet space! The stackable WD provides the best performance, but double the space used - and we all know, space is a premium - especially for a fulltimer!
Ventless Dryer

The ventless dryer - either stackable WD or WD combo - is just what it says. It does not have a method to vent the dryer outside the RV. They are designed internally to get rid of the excess moisture. Here's a direct link to an outstanding Manufacturer - Equator Appliances - W/D Combo

Plumbing/Electric WD Utilities

This should be the absolute minimum you order on a "new" RV, even if you hate having one in your RV and actually want the storage space instead! Someday, you will want to trade up or down and the value of your RV will be decreased considerable if it doesn't have at least the utilities for a RV Washer Dryer.
Stackable Washer Dryer

The true stackable WD setup is typically only in the very large (over 40') RV - a Class A type. They are 2 separate units in one and will provide the best drying operation.
Just like a house unit, the dryer works the best as it's own separate device. The problem with a stackable WD is just space - period! I'm sure everyone would love to have it. But, not at the sacrifice of needed storage space.
Washer Dryer Combo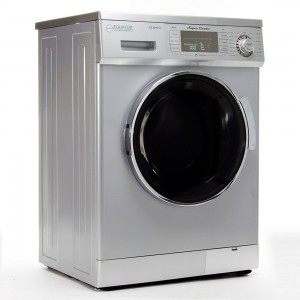 If your RV has some type of a washer/dryer - 99% of the time it will be a WD Combo unit. They are simply the best and take the least amount of space - and still have a washer and dryer!The all in one unit is much more complex to repair and just doesn't dry clothes without wrinkling them!
I know, if you stop it after the wash cycle and refold your clothes and plead with it to not wrinkle them - it might?
Let's face it, we aren't that good about doing our laundry that way! We'll fill it, turn the knobs, start it and expect perfectly wrinkle free dry clothes to appear in an hour.    Wrong!!!
It's the best RV Washer Dryer it can be, especially given what it must do !
Here's a great link to plenty of Washer/Dryer Types and Models by Equator

---
Comment section may not display, depending on the Browser you use. Chrome will display for sure! Mozzilla Firefox will not. Please don't using Internet Explorer (not secure!!)
Home

›
RV Appliances
› RV Washer Dryer Options