RV Towable Vehicles

RV Towable Vehicles are a great option for today's RV'er! Originally, only a standard (stick shift) transmission vehicle could handle being towed without the engine running.
These vehicles used to only be 4 x 4's or utility type - now they are that, plus quite a bit of luxury, as well!!
As the demand for more "luxurious toads" became stronger, the car and truck manufacturers started making automatic transmissions vehicles that could be towed behind an RV.
So, what's your favorite toad? What the heck is a Toad anyway?
RV Toads are slang for the towable vehicles that you hope are staying behind you while driving your Motorized RV! Another slang word for towable vehicles is "dinghy".

Your RV Lifestyle can be usually determined by your "toad"! A slang for car or cars.

Is it a flashy car or SUV - used to drive just the main roads - or is it a jacked up 4 x 4 to go off-roading!?
Before you pick your "toad" - let's be sure it's "you" and also legal and easy to tow behind your RV!


---
Important - Side Issue!

If you are like most RV'ers, you will leave your RV in a RV Park or campground or boondocking site and go "somewhere" in your RV Towable vehicles.
A good habit to develop - always carry a little diary or booklet with you indicating where your "home" is parked! Imagine if something happened and you had an accident in your toad - how would anyone know that your "home" is parked 10 miles away in an RV Park with SD Tags on it??
We started carrying a little diary/journal book that has our emergency contact info in front and just entries by date as to where we are "parked".
Especially helpful if your "home address" is a Mail Forwarding PO Box!! An accident is bad enough, at least help people know who you are and where you really are parked as "home" - especially if you are a "Fulltimer"
Having RV Towable Vehicles is one thing, the journal makes it easy on yourself if an accident happens and you are away from your home or toad, for that matter!
Plus, really cool way to see where you've been!
---
Helpful Caution!
It is extremely difficult to back up an RV with a toad attached - the steering wheel of your toad is unlocked - the toad will go the opposite direction you need - Guaranteed!!
---
Before purchasing one of the many RV towable vehicles available, there are several considerations to think about!
---
RV Towable Vehicles

Now the questions - How much weight can be towed behind your RV? How difficult is it to secure a hitch to the front of most RV towable vehicles? If you want an automatic transmission, can the model vehicle you want be towed with that luxury?
How difficult and expensive will an auxiliary braking system be to install? How expensive and difficult will it be to install a wiring harness for you rear lights on the toad to be synchronized to your RV (lights, turn signals, brake lights, etc.)?
Each of these questions are independent of the other! Just because it is easy to hook up some RV towable vehicles, doesn't mean the braking system will be, the lights will work or the transmission will allow towing!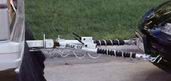 Attaching A Toad
A toad is attached to an RV with a specially designed hitch that looks like the capital letter "A". It will have a pivot point at the tail of the RV (usually a ball on the hitch point of the RV) and be attached to the "toad" vehicle on the front end of it.
Depending on the type of vehicle design, it can be attached to the bumper itself, to specific designed in attaching points of the vehicle, or a special addition of a "plate" that is designed for a specific vehicle so it can be towed. Here's a great link to Tow Bar Prices and Info.
Don't forget those safety cables to protect everything if something goes wrong!
This is a link through which we make a small commission if you buy. See here for more details
How much weight can an RV tow? Every RV is designed to handle only so much weight - internally and externally!
Unfortunately, we've all seen an RV cruising down the highway with a very obviously large overweight vehicle behind it! All is fine until something goes wrong - a tire blows, someone cuts them off or just a good old fashioned accident.
The police and insurance company will have a field day - and possibly deny your accident insurance!!
Every RV manufactured has a very specific tag attached to it indicating exactly how much it weighs, how much can be added to the RV itself and how much it can tow.
If you exceed any of these limits, your the one in trouble!
The difference between the GCWR and the GVWR is the maximum total weight that can be "attached and towed" behind an RV. This must NEVER be exceeded!


Automatic or Standard Transmission? As mentioned above, more and more vehicles are now suitable to be an RV towable vehicle. Prior to purchasing even a standard transmission vehicle, be sure to determine if it can be towed - Locking wheel hubs might matter, front wheel drive vs. rear drive, etc.
There are many websites that publish a list of approved vehicles each year - be sure to checkout Motorhome.com - it's got valuable info plus great questions to ask and get answered!
We recommend you verify with the manufacturer! All automotive and truck manufacturers post on their websites which vehicles are OK for towing.
Be sure to verify this - you don't want to void your Warranty!

---
Have a car or truck that isn't "approved" to be towed, but you just can't bear to leave it home???
Check out the folks at Remco Towing

They've been helping car and truck owners adapt their vehicles so their cars can be towed behind a motorhome - a great RV Towable Vehicles fix!
---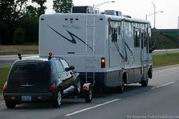 Tow Dolly These are a great "temporary" fix for your RV towable vehicle. A tow dolly is used to put the front wheels of the toad vehicle off the ground.
If it is a non-approved front wheel drive vehicle, this is a great solution for the short term. However, as a regular RV'er, dealing with an "extra" vehicle - the Tow Dolly, makes it very impractical!
Many campgrounds have only so many pull-thru sites. Think about this - you have to unload your toad from the tow dolly, unhitch your tow dolly and physically "manhandle" it away from the rear of the RV so you can back into your "Non-pull-thru" site!
Try doing that every few days!!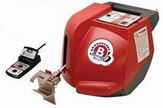 Auxiliary Brake Systems for the Towable vehicles. While towing a vehicle, the only "active" braking systems is the RV itself. Some type of auxiliary braking system must be installed in the toad vehicle to assist both vehicles while trying to stop.
Many RV'ers with the large Diesel Pusher's feel it isn't necessary since the air brakes are so good on the RV itself. Again, until something goes wrong, it won't matter! However, if an "accident" happens - and they do - the police and Insurance companies will not be very happy!
These systems will have an "emergency stop capability" as well! That comes into play if your toad breaks away from your RV!!
There are several types of Auxiliary Brake Systems available. Do your research and match up the particulars of each to the type of vehicle you are towing.
Some brands are:

Here's a direct link to purchase RV Brake Systems

Wiring Harness for Toad Lights By law, the towed vehicle must have the ability to indicate turns, stops and display visibility lights.
Since the RV vehicle is running and that operator is signaling, a wiring harness must connect the two vehicles to allow normal operation of all of the lights on the tow vehicle. There is a standard harness plug at the rear of the RV.
However, the tow vehicle won't have a wiring harness plug built-in. This should be installed by a qualified person to be sure they work correctly and no shorts will occur to cause a fire!
Once this is installed, there are standardized cables to connect from the RV to all RV towable vehicles.



Tow Class Equipment There are 4 basic categories of tow equipment.
Class 1 - Up to 2,000 lbs
Class 2 - 2,001 to 3,500 lbs
Class 3 - 3,501 to 5,000 lbs
Class 4 - 5,001 to 10,000 lbs

As an example, towing a car with a GVWR of 3,600 pounds requires using a tow bar, safety chains and a base plate that each have a Class III rating.
Also, make sure the receiver on the back of the motorhome has a rating that is sufficient for your RV towable vehicle.


Towing Laws for each State must be researched and known before you just "wander" into some states! We've all marveled at that 3 vehicle combo driving down the highway - let's be sure it's legal!
RV Towable Vehicles