RV Refrigerators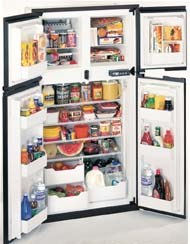 The uniqueness of RV Refrigerators is their method of cooling the food inside!
Back in the 1950's, a "Gas Absorption Refrigerator" was designed/developed that actually used the heat of burning propane to cool gases and therefore it could cool the foods inside.
Over the years, they have advanced to very reliable systems and circuits to keep foods either frozen or cool. They've also had some "issues", but always corrected quickly and kept all of us on the roads for years!
The "older type" all are powered by either propane, with a 12 volt DC system - or a 120 Volt AC shore/generator power.
As a result, the RV'er could set it on automatic controls and it would run on 120 Volt DC when plugged into shore power. Then, switch automatically to a 12 Volt DC and Propane Refrigerator as soon as the generator or shore power was stopped.
This wonderful type of refrigerator would then allow all types of travels and boondocking without having to start a generator or plug into a RV Park/Campground!
There seem to be only two main manufacturers of RV Refrigerators. Either a Dometic or a Norcold Brand.
They both make a very basic little refrigerator up to a very large 4 door freezer/ice maker/refrigerator.
The "newest" idea is a house style 120 Volt AC refrigerator - just like the one in your stick and brick house.

Refrigerator Replacement - Norcold 1200 in a Motor Home

Refrigerator Heat Trick

Propane Refrigerator Repair "Must Do" Trick
---
Dometic Refrigerators

All manufacturers make wonderful claims - Dometic is no different. All we can do is provide you the information for your buying decision.
Of course, some brand RV's only come with one brand of RV Appliances. Dometic produces refrigerators from 2 cu feet up to 12 cu feet. They'll have a small door, an above/below type, a side by side 2 door or a 4 door, as well.
Select their logo just below to go directly to their website of RV Gas Absorption Refrigerators.

---
Norcold Refrigerators

Norcold is the other manufacturer of RV Refrigerators. They also make a Propane Gas Absorption Refrigerator in a variety of sizes.
Norcold claims to be American Company making American made Refrigerators.
Select the logo just below to go directly to their website of RV Gas Absorption Refrigerators.
As always, you will need to do your own research to determine which brand and style will suit your needs.

Norcold Reset for 1200 Series Model (Serial # BELOW 832171)

Need to "reset" your Norcold 1200? Here is the procedure for it, from their Service Manuals. This is for the Norcold 1200 with a Serial # below 832171
The procedure is in the section called "No Cooling", but it is a full description of how to reset your main board.

---
Electric Only Refrigerators

As you can imagine, these are powered by full 120 Volt AC only. Aside from the "locking doors", they will look and act just like the fancy refrigerators in a stick and brick house.
These are available only in newer RV's with a more serious battery reserve system and generators. Since it requires full electricity 24/7 it has different rules "of the road".
They look real pretty and hold lots of stuff - however, batteries must be kept charged to feed the inverters to feed the 120 Volt AC.
Granted, they have very advanced circuitry and motors, but they will definitely draw lots of power out of your batteries!
Now, you can drive down the road with it running from the Engine Alternator charging the batteries to keep it powered through the inverter.
Or you can drive down the highway with your generator running to power the refrigerator directly.
Personally, if I had to do one or the other, I'd run the generator - the Engine Alternator will get hot and burn the bearings prematurely if it is always having to run the refrigerator as well!
Dometic and Norcold both make an Electric ONLY Refrigerator for an RV with locking doors, etc.


As in anything else, your RV Lifestyle - plugged in a lot versus boondocking will determine just what type of refrigerator you want.


Do your research, FIRST!!
RV Refrigerators are pretty important to an RV'er!