google.com, pub-5407035587591446, DIRECT, f08c47fec0942fa0
Utah's Best
by Dixie
(Utah)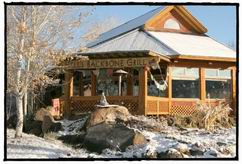 Hell's Backbone Grill
Small restaurant in Boulder Utah - called Hell's Backbone Grill is just incredible! The 2 owner's, Jen & Blake, have really put it together - excellent regional fresh food cooked to perfection!

Blake and Jen operate their restaurant following Buddhist principles, with a commitment to sustainability, environmental ethics, and social and community responsibility.

They serve organic, locally produced, regionally and seasonally appropriate cuisine, growing many of their own vegetables organically in the restaurant's two gardens and on their six-acre farm.

They feature dishes made with fruit from Boulder's heirloom orchards and rely largely on local ranchers for the natural meat they serve.

Aside from their awesome cuisine, the ride to and from their restaurant is just spectacular and so worth the trip!



View Boulder, Utah in a larger map